YAC ELEX
ERF-1000

UHF band RFID label printer with dual antenna.
As industrial application, we realized greatly improved reliability by improving workability by high speed printing and duplication of RFID data verification function!
TOSHIBA TEC
B-EX4T1-TS25-R

Compared to conventional models, the total time from operation execution to finish is greatly shortened. It is recommended for the site where FA, logistics, transportation, manufacturing, circulation, etc. mass concentration of labels are issued. Printing as a label printer of RF tag is possible.
SATO
SG412R-RFID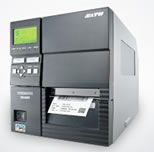 High speed printing up to 250 mm / sec is realized, high speed editing / issuance of mass data is realized.
It is a body with robustness and durability to cope with harsh field conditions. Since paper tubes are not used for winding used ribbons, there is no need to separate them when discarding them.
PHOENIX
PX452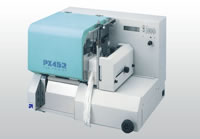 Ideal for issuing tag with tag for apparel.
Ideal for use with single thread price with threads used in department stores, mass retailers, clothing specialty stores, apparel makers, etc.