NEC Platforms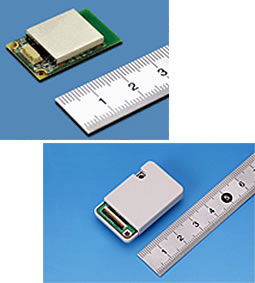 It is a compact size easy to incorporate into customer's products, such as air conditioning control using temperature and humidity sensors, power management such as confirmation of electricity usage, etc., and also radio which can be used for various applications such as security, logistics management, factory manufacturing line monitoring It is a module. Two types are available: ZigBee® (ZigBee) compliant radio module and proprietary protocol serial communication module.
NISSIN SYSTEMS
Ultra small device server for embedded「XPort」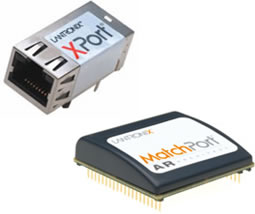 XPort is an ultra-small embedded serial-to-Ethernet converter that implements CPU, ether chip, RTOS, TCP / IP and its upper application layer to RJ-45 connector size.
Built-in WEB server supporting wireless LAN「MatchPort b/g Pro」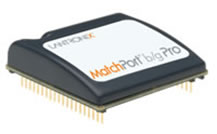 MatchPort b / g Pro incorporates RTOS, TCP / IP protocol, security-compatible WEB server, SNMPv2c, etc. as small sized square size (about 44.4 x 44.4 x 10.4 mm) as hardware such as CPU, memory and Ethernet chip, software It is a device server.
It conforms to IEEE802.11.b / g wireless LAN standard. By using the recommended antenna for MatchPort b / g Pro, it is unnecessary for customers to newly obtain the radio wave certification.
Movon Corporation
Bluetooth Low Energy module「MD-TLE」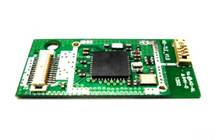 Bluetooth Low Energy
ROHS
Built-in chip antenna
Low power consumption
22.5(L) ×13.0(W) ×2.3(T)mm(TBD)
Applied product area
‐Mobile Phone Accessory
‐Sports and Leisure Equipment
‐Human Interface Device(Keyboard、Mouse、Remote Control)
‐Health Care and Medical
‐USB Dongles
Other Bluetooth modules

「MD-4CA」Bluetooth SPP Communication module
「MD-5XR」Bluetooth Module for music data transmission
「MD-4DRA」Apple correspondence goods Bluetooth SPP dedicated module *In development
u-blox AG
We will provide modules and solutions from the connected and revolution LSI which positioning and wireless communication brings. We have various products for automobile, industrial, general quality.
Cellular module(3G、4G、LTE、NB-IOT)
Major products
SARA-R4/N4 series
SARA-U2 series
LARA-R220 LTE Cat-1 module
TOBY-L210/L220 LTE Cat-4 module
LISA-U270/U200/U201
Short-range wireless module(Bluetooth、Wifi)
Major products
NINA-W1/B1 Wifi module/BLE module
JODY-W1
EMMY-W1
GNSS module(High precision GNSS module, Timing module)
Major products
NEO-M8 series Generic GNSS module
CAM-M8 series GNSS Antenna Module
SAM-M8Q Smart Antenna Module
UBX-M8030 GNSS chip module